Film Afternoon
Where and When
Every 2nd Wednesday in the month, Windhill Community Centre hosts Film Afternoon at 1pm. Refreshments are available throughout the film.
What's Showing this Month
On the 14th March at 1 pm, Windhill Community Centre will be showing 'A New Hope' which is the first Star Wars Movie, made in 1977. Who is your favourite character, Luke Skywalker, Darth Vader, Han Solo, Princess Leia, Obi-Wan-Kenobi, Chewbacca and furthermore why? As a result of this movie the Lightsaber was created, which is still on many children's wishlist's 40 years later!
Remember watching this film the first time around, or incredibly not seen it yet? Fancy an afternoon with a friend or meeting new friends, remembering the beginnings of Star Wars mania.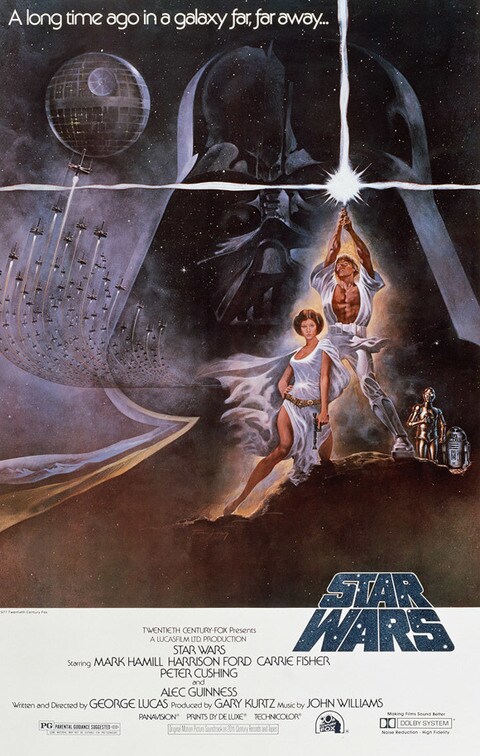 The Imperial Forces — under orders from cruel Darth Vader (David Prowse) — hold Princess Leia (Carrie Fisher) hostage, in their efforts to quell the rebellion against the Galactic Empire. Luke Skywalker (Mark Hamill) and Han Solo (Harrison Ford), captain of the Millennium Falcon, work together with the companionable droid duo R2-D2 (Kenny Baker) and C-3PO (Anthony Daniels) to rescue the beautiful princess, help the Rebel Alliance, and restore freedom and justice to the Galaxy.
Below is a link for information about the movie.
For 'Star Wars – A New Hope' click here.
The film each month will begin 1 pm.  In addition to teas/coffees/cold drinks, light refreshments will also be available whilst watching.
Since this first movie was made, there has been the original trilogy, then the prequel trilogy, and now the sequel trilogy is in its final stages. Film Afternoon members are especially hoping to watch the whole collection of 'Star Wars' films made.
If you have any suggestions for future films you or your family would like to see, comment below, email contact@windhillcommunity.co.uk, phone 01274 588831 or call into Windhill Community Centre and let us know.